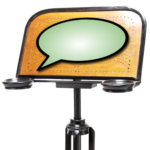 The EXMARaLDA Partitur Editor is a tool for transcribing and annotating of digital audio and video files. With the Partitur Editor, you can enter, edit and output transcriptions in musical score (German: "Partitur) format. Transcription and digital audio or video recordings can be linked and aligned in this process. [Scroll down for the gallery with impressions]
The Partitur-Editor offers the following functionality:
Time-aligned transcription in multiple tiers;
Processing of transcriptions according to common transcription conventions (HIAT, GAT, CHAT);
Output of transcription data in different layouts (musical score, line-for-line), in different document formats (HTML, MS Word) and with multimedia links to audio or video;
Adding manual annotations in an arbitrary number of additional tiers, semi-automatic annotation methods, support for systematic annotation schemes;
Documentation of speakers;
Data exchange with other widely-used systems (Praat, ELAN, Transcriber etc.);
Calling CLARIN-D-Webservices for automatization of workflows (alignment, token annotation).
---
As Jav

a-based application, the Partitur-Editor will run on all common operating systems (Windows, Macintosh, Linux) with a current Java Runtime Environment. The source code is Open Source and it is available at GitHub.

Download of the software is free. The current official version can be found on the download page. Previews of upcoming versions are offered on the preview page.

In the section Help/Support, you can find further documents. Feel free to contact the CLARIN-D Helpdesk if you have additional questions.

Besides that, we offer EXMARaLDa introductory training courses on regular basis, you can read more about them on this page.
---